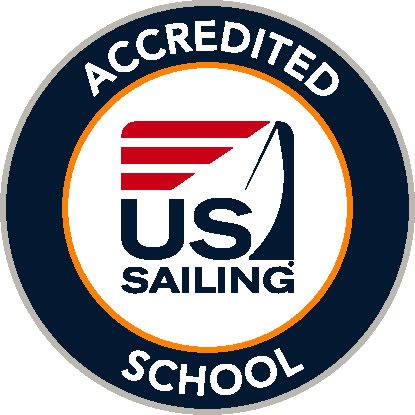 Basic Keelboat Class for Adults
through the Lorain Boating Education Foundation
Lorain Boating Education Foundation is a registered and accredited provider of US Sailing's "Basic Keelboat" class for adults. This class is designed for adults to learn not only how to sail, but how to operate and manage their own auxiliary sailboat. Skills taught include the basics of sailing on and off the wind. In addition, the class provides training in getting a larger sailboat on and off a dock, retrieving a person who has fallen overboard, and many other skills to give you the confidence to own and operate your own sailboat.
The Lorain Boating Education Foundation is the 501c3 education wing of the Lorain Harbor Boat Club (LHBC), Lorain, Ohio. Classes are offered at the LHBC facility, 108 Alabama Ave, Lorain, Ohio, 44052.
Our instructors are dual certified as USCG Licensed and US Sailing Accredited instructors on Colgate 26 (26') sailboats having auxiliary power, with up to four (4) students and one instructor per boat. With only two boats in the program, enrollment is limited to a maximum of eight (8) students. The boat is a good combination of stability, nimbleness and room for all. Learn more about the Colgate 26 here.
The sessions are taught over two full, successive Saturdays and up to four weekday evenings (Tuesdays and Thursdays) in the same two week period. Upon completion of the course and passage of a test, you will receive a certificate from US Sailing attesting to your abilities and knowledge.
In 2023 the class will be conducted on a series of full-day Saturdays, and Tuesday and Thursday Evenings - June 17, 20, 22, 24, 27, and 29. Saturday classes run 8am to 4pm, weeknight classes run 5pm to 9pm. Please be flexible in scheduling those two weeks as weather make-up days may be required.
The cost is $450/person.
A $50 discount is offered off the fee for:
A second member of your immediate family signing up with you -- for example a spouse or offspring
An "Active" member of the Lorain Harbor Boat Club
(Only one discount per enrollee allowed)
To secure your place in the class send a 50% non-refundable deposit. The balance of your fee will be collected on the first day of class and may be made via check (made out to Lorain Boating Education Foundation) or cash. Your deposit check can be mailed to Lorain Boating Education Foundation, c/o LHBC, PO Box 1134, Lorain, Ohio 44055.
If COVID restrictions or other unforeseen problems force the school to cancel the class we will refund any fees paid in full.
All students must carry an Ohio Boaters Education Course (OBEC) license. OBEC licenses may be acquried free of charge online at www.boatus.org/ohio/. For more on Ohio's rules for operating a watercraft see: Ohio Watercraft Operators Regulations.
Adults interested in taking the course are encouraged to bring their own type III life preserver, sailing gloves, appropriate apparel and sun protection including sunglasses.
The class will start each day with "chalk talk" in the classroom followed by plenty of on-the-water time to practice your skills. Everyone will be fully engaged in the operation of the boat and will switch off between stations for a full immersion of the skills being taught. Students must be physically able to independently move themselves around the open cockpit of our Colgate 26 sailboats.
Space will be provided on board for a bag carrying your personal items which should include an extra change of clothes, wind breaker and/or sweat shirt, rain gear and water. We will continue to sail even in a light rain, and in June the water is still cool bringing down the air temp when out sailing. For Saturday classes come prepared for a full day on the water. You should also plan to bring your own lunch for Saturdays; a lunch break ashore is included on Saturdays. For evening classes, grab a light dinner before hand or plan to eat late. We start weeknight sessions with "chalk talk" so there will also be time ashore to eat a light meal before going out on the water.
---
Small Keelboat Registration
Please send an email to our Education email address with:
Name(s) of student(s)
Contact Phone number and email
We will reply to your inquiry and complete the sign-up process.
Please email registration information here: Education@LorainHBC.org